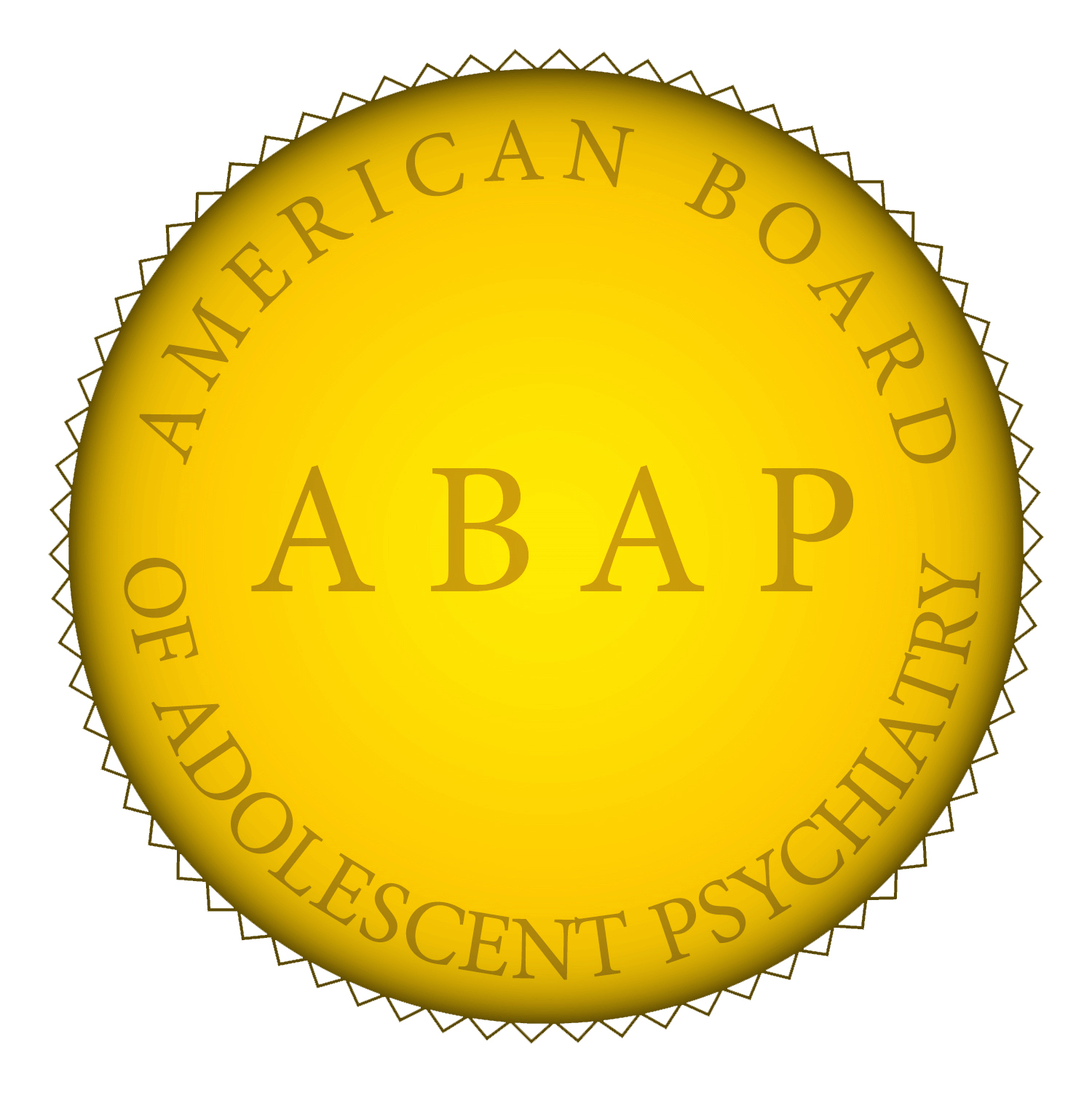 THE AMERICAN BOARD OF ADOLESCENT PSYCHIATRY
Certification Information
The American Board of Adolescent Psychiatry (ABAP) sponsors board certification in Adolescent & Young Adult Psychiatry. ABAP is a semi-autonomous body presently organized under the auspices of The American Society for Adolescent Psychiatry (ASAP). Membership in ASAP is NOT required, however, for candidates to obtain and maintain Board Certification in Adolescent and Young Adult Psychiatry.

Initial Certification in Adolescent and Young Adult Psychiatry
​
As of June 1, 2020, the certification examination for added qualifications in Adolescent and Young Adult Psychiatry is an online, on demand examination, administered during two administration time windows (Spring and Fall). Once any candidate fulfills the requirements and has submitted the necessary application, supporting documents, and required fees, the candidate is contacted and arrangements are made for the exam administration during the next open time window. While some candidates may elect to move directly ahead with the examination, others may desire a delay in order to study and prepare once their application is approved, in which case they may move to a later time window. This is an individualized process worked out at the time of approval.
​
The minimum requirements to be considered for ABAP Certification are:
​
Board Certification in General or Child Psychiatry by the ABPN, AOA, NBPAS, or The Royal College of Physicians in Canada

An active and unrestricted license to practice medicine in a state or province

At least 25% of patient care time spent treating adolescents or young adults (ages 11-26)

Written documentation of the following continuing medical education related to adolescent and/or transitional age youth psychiatry:
​
Option A: 36 hours of Category I CME within 3 years prior to application

Option B: 30 hours of Category I CME, At least 12 hours must be approved review course in Adolescent/Young Adult Psychiatry plus 18 hours of additional Category I CME credits within 3 years prior to application (Please check with our executive office in advance to determine if your chosen review course fulfills necessary criteria).
​
The term of the initial certification is ten years. During the initial term of certification, you will need to complete 100 hours of Category I CME activities relevant to the clinical practice of Child, Adolescent or Young Adult Psychiatry. There is no requirement that a certain number of hours be completed each year, but it is recommended that all Diplomates upload their CME annually to the ABAP Executive Office so it can be monitored and approved to avoid coming up short at the end. We have also created a Recertification Examination alternative for those who do not wish to take or submit the required CME or whose CME may not meet approval standards at the time of recertification. Subsequent certification terms run for 5 years and, accordingly, only 50 CME credits during that time are required.
​
Fee Schedule
​

Registration Fee $450 (a one-time nonrefundable fee, payable at time of application)
​
Examination Fee $750 (payable upon successful review of application and admission for candidacy)

Re-Registration Fee $200 (required only if a candidate fails to pass both portions of the exam and does NOT request re-examination within 6 months of notification of failure, whereafter an updated application will be required; fee waived if candidate retakes failed portion(s) within 6 months of notification)

Re-Examination Fees $150 for Part I, $150 for Part II, and $300 if both parts are required (payable at time of re-application)
​
Payment page: CLICK HERE
APPLICATION SUBMISSION: CLICK HERE
​
Note: References are required. Provide your references with this link to complete an online reference form.
​
Unable to complete the online application? Contact the ABAP National Office for assistance.
Frequently Asked Questions (FAQ)
Certification Examination Study Guide

For more information about certification/recertification, contact our Executive Office.